KBS Auto Fuel Tank Sealer Kit - All-Inclusive Kit Seals Tanks Up To 25 Gallons
$110.00
Shipping calculated at checkout
SKU: KBS 53000 KBS
Free Shipping
on orders over $300
Questions?
Ask our experts.
The KBS Fuel Tank Sealer Kit contains everything you need to seal a tank of up to 25 gallons. Gold Standard Fuel Tank Sealer is a superior, single-component, ready-to-use fuel tank sealer.
Gold Standard Fuel Tank Sealer is specifically formulated to stop rust and corrosion by forming a tough, fuel impervious coating while simultaneously sealing small pinholes and weld seams.
This kit contains our KBS Klean (a water-based, heavy-duty, cleaner/degreaser) and RustBlast (a powerful rust remover/metal etch) to obtain a permanently sealed, rust-free fuel tank. These KBS prep products are formulated to extend storage times by leaving a zinc phosphate film.
KBS Klean - 2 Quarts (1/2 Gallon)
RustBlast - Quart
Tank Sealer - Quart
Black Nitrile Gloves
Stir Stick
Detailed Instructions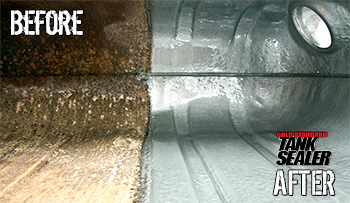 Rust Blast - UN3264 Corrosive liquid, acidic, inorganic, n.o.s. (Contains: Phosphoric acid), 8, II
Tank sealer - UN1263 Paint, 3 - Flammable liquids, III - substances presenting low danger LTD QTY
 KBS Klean No UN