KBS BlackTop Chassis Paint - 1K Coating - Brush Roll or Spray - Quart
$75.00
Shipping calculated at checkout
SKU: KBS 8401 KBS
Free Shipping
on orders over $300
Questions?
Ask our experts.
BlackTop is a permanent, moisture-cured, UV stable coating primarily used for topcoating surfaces previously sealed with RustSeal or any other paint/primer application. BlackTop is a high performance protective coating specifically formulated to withstand dulling and fading caused by prolonged sunlight exposure.
Single component formula
Permanent UV stability
No chalking or fading
Rock hard permanent topcoat
Flexible coating which expands & contracts
High temp resistance: 500F for non-aerosol; 300F for aerosol
Non-porous coating
Superior flow and leveling
Available in a convenient Aerosol Can
Apply by brush or sprayer
NOTE: If you are unsure of what sheen of BlackTop you want, please request an actual color sample HERE.
Gloss Levels: Gloss (85-95%), OEM Satin (55-65%), Flat Black (15-20%)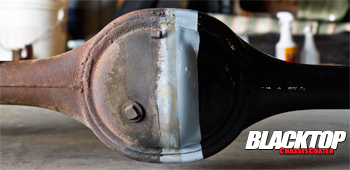 UN 1268 Petroleum distillates N.O.S., Class 3, PG II - Limited Quantity